Eagle 1000BWS Stretch Wrapper with Powered Pre-Stretch and Built in Scale
$9,700.00
250% Powered Pre-stretch
59″ Turntable Diameter
87.5″ Max. Wrap Height
3,500lb Max. Load Weight
Includes built in scale
Why weigh your loads separately, when you can do it all with this great machine? The Eagle 1000BWS with integrated scale system enables you to load, weigh and wrap your pallet all in one simple step.
Allowing you to -
Accurately weigh your loads to control your shipping costs
Eliminate back charges from trucking companies
Increased efficiency from less load transference
Save floor space and eliminate maintenance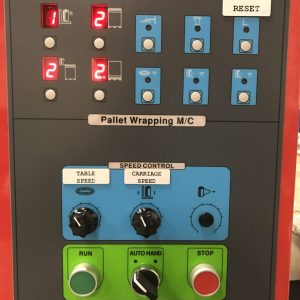 Description
Semi-Automatic or Manual Operation

Simplified control panel for easy operation

Automatic Load-Height Sensor (ALHS)

Powered Pre-Stretch (250%)

Turntable Resets Automatically to Home Position

Soft Start/Stop Turntable
Note: Machines with built in scale can have up to a 3 week lead time due to scale installation and calibration.