Josef Kihlberg Staplers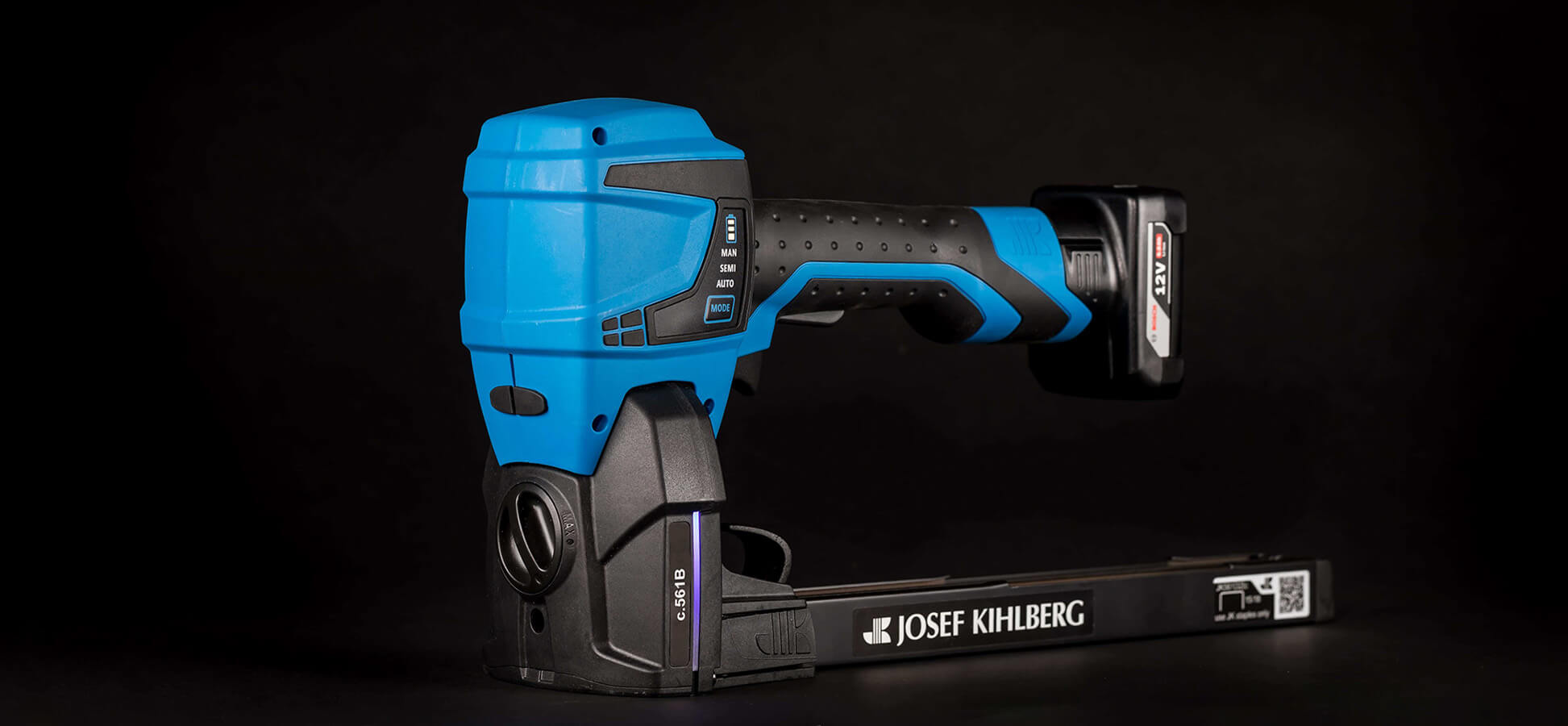 Pricing as of 11/2/2020 Subject to change without notice.
C.561B - No laser @ $1275.00 – jk part number 128002
C.561B - Front and Cross Laser @ $1575.00 – jk part 128202
Ergonomic cordless carton stapler
Top stapler designed for the user
The lightest battery top stapler

The tool is extremely light and easy to use. Its weight is only 2.7 kg (6lbs), meaning that you can use it for prolonged times and take it with you wherever you go without suffering from arm fatigue.

Ergonomic handle

The unit has an ergonomic handle with a soft rubber grip. The grip gives the user high comfort during extended periods of use, whiles also providing a more secure grip when operating with the tool.

Mobility

Our cordless packaging closer gives you excellent maneuverability, allowing for optimal posture when operating it. The top stapler is incredibly kind to the operator's health. The design of the tool makes it easy and enjoyable to use in different positions while giving excellent carton closing results time after time.

Smoothest recoil

Our box closing stapler´s state of the art technology ensures excellent balance. It dampens the vibrations from recoil during the prolonged and repetitive operations of daily use. Gone are the days of arm injuries from recoils.
Fastest battery stapling tool

We are proud that our cordless carton battery stapling tool is the fastest in the world. It can fire up to 5 shots per second. The speed you need at all times for a faster stapling process and higher overall productivity.

8000 staples per battery charge

The tool delivers the most carton closing from every charged battery. Our cordless box closing top stapler is precision engineered to be able to fire up to 8000 shots per battery. Giving you the capacity you need to be more efficient and longer tool uptime.

Brushless wear free motor technology

Our brushless motor technology gives you significantly higher efficiency and performance compared to a brushed motor. It increases reliability and needs fewer maintenance efforts due to its lower susceptibility to mechanical tear, which means that the cordless carton closer has a longer lifespan than its brushed motor counterparts.

Lowest sound emission

When we designed this tool, we had performance, ergonomics, and work environments in mind. To be able to produce the lowest sound emission, the top stapler uses a brushless motor which reduces the operational and mechanical noise from the unit. Our battery powered stapler produces half the sound emissions compared to pneumatic carton closers.
Digital User Interface

For full control of your cordless top stapler

Indication battery status

The indicator shows the charging status of your cordless packaging stapler. Levels are maximum, high & empty.

Indication operation mode

The indicator easily visualizes which operating mode you are using. Where blue is the active mode and white are inactive mode.

Mode selection button

The cordless carton stapler has an easy

one click

switch operation mode and an optional hold down to

activate/deactivate

laser positioning mode.
Operating Modes

Intuitive and easy to use.

Manual Stapling

Single staple insertion by manual trigger actuation. Recommended for varying packaged goods (soft, hard).

Semi-automatic stapling

Multiple staples can be inserted with continuously held trigger actuated via box detection sensors. Recommended for large quantites of identical packaged goods.

Automatic stapling

Multiple staples can be inserted over a predefined interval by continuously held trigger. Recommended for large quantites of identical packaged goods or long packages.
Laser guidance position system (Option)

Ensure high-quality brand packaging every time.

Front laser

For positioning guidance with one front laser.

Cross laser

For positioning guidance with one front and two side lasers.
| | |
| --- | --- |
| JK560, A Series | JK561, C Series |
| | |