Shop our Datco Basic Hot Roll Series Hot Melt Roll Coaters selection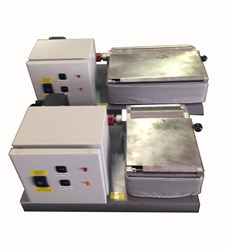 Datco Basic Hot Roll Coater 6"
Part Number: Datcobasic6
SKU: Datcobasic6
$2,375.00
SAVE $125.00
REG. $2,500.00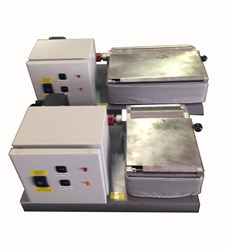 Datco Basic Hot Roll Coater 12"
Part Number: Datcobasic12
SKU: Datcobasic12
$2,850.00
SAVE $150.00
REG. $3,000.00
Datco Basic Hot Roll Series
Standard lead time is approximately 3-7 days.
The Datco "Basic" Hot Roll uses the same roll and reservoir as the full-feature Hot Roll. The difference is the drive and temperature control package. The basic machine is available in 6″ and 12″ roll lengths.
Features
Constant-speed Brother International GTR gear motor
Autonics plug in modular analogue temperature control located inside the panel box.
120 volt AC power requirement
The control panel is simple and straightforward, featuring an illuminated main power switch, a motor start-stop switch, and a knob to set the temperature. As with all Datco roll coaters, there is an electronic under-temperature circuit to prevent the motor from attempting to run until the unit has achieved setpoint temperature.
The Basic Roll is easy to use and easy to own. Simply plug it into almost any 120 volt outlet, set the temperature, and turn it on. When it's up to temperature, the motor is enabled, and you are ready to start.
Specifications:
Weight:
6": 40 lbs. (18 kilo.)
12": 50 lbs. (22 kilo.)
Dimensions:
6": 18"x12"x8" (46x30x20 cm.)
12": 30"x12"x8" (60x30x20 cm.)
.Reservoir Volume:
6": 82 cu. in. (208 cu. cm.)
12": 165 cu. in. (419 cu. cm.)
Temperature range: Ambient- 400 F (204 C)
Power supply: All Basic Rolls are 120 V.