Schaefer HRC Hot Glue Coating Machine
The HRC hot glue coating machine is a table top hot melt coating machine designed for coating small parts with hot melt glue. It is available as a machine with an open coating roll, or with a dual adjustable feed roll system. The feed roll system is adjustable for coating parts from .010 thick to 3" thick. For coating glue onto thicker parts or the sides of parts, the feed roll system can be pivoted out of the way, and the coating roll exposed so that glue can be applied to hand-held parts.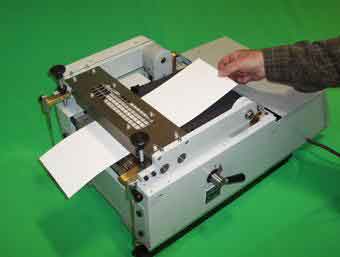 HRC HOTMELT ROLLCOATER (8" WIDE UNIT) (220V)


Open Machine (no pressure roll)
$10,315.00
With Driven Pressure Roll
$12,855.00
110 Volt Option
$240.00
Features on the HRC:
• 8" wide coating roll with knurled surface
• Simple coating thickness adjustment without tools
• Table top coater – operate from either side
• Feed roll system adjustable for parts from .010" up to 3" thick
• Variable speed drive allows adjustment to comfortable run rate
• Digital temperature control ensures accuracy
• Built in high temperature safety limit
• Holds 7 lbs of hot melt adhesive – less frequent stopping and refilling
• Easily refilled with glue by lifting feed table – accepts pellets or blocks of adhesive
• Secondary tank pickup roll allows running even when adhesive level is low
• Silicone covered feed rolls – easy to clean
• Feed roll system swings back to allow coating of hand held parts, such as foam blocks
Specifications:
• Size: 16″ x 29″ x 10″
• 115V 30 Amps
• Motor – 1/4 HP
• Machine Weight: 125 lbs
• Ship Weight: 175 lbs
Options:
• Heavy Knurl Coating Roll
• Grooved Coating Roll
• 208/220 V Electrical
• Open Roll Machine
• Striped Coating Roll
The HRC also has a unique secondary glue pickup roll below the coating roll that allows the use of a deep glue tank – resulting in higher capacity and more running time before glue needs to be added. This machine is ideal for coating parts made of foam, chipboard, leather and many other materials with hot melt glue; Perfect for "cut and cap" work on air filters.
HRC Cross Section Through Tank