Bulk Glue Dots & Dispensers for Sale Online
Buy Glue Dots in Bulk from Star Packaging Supplies & Save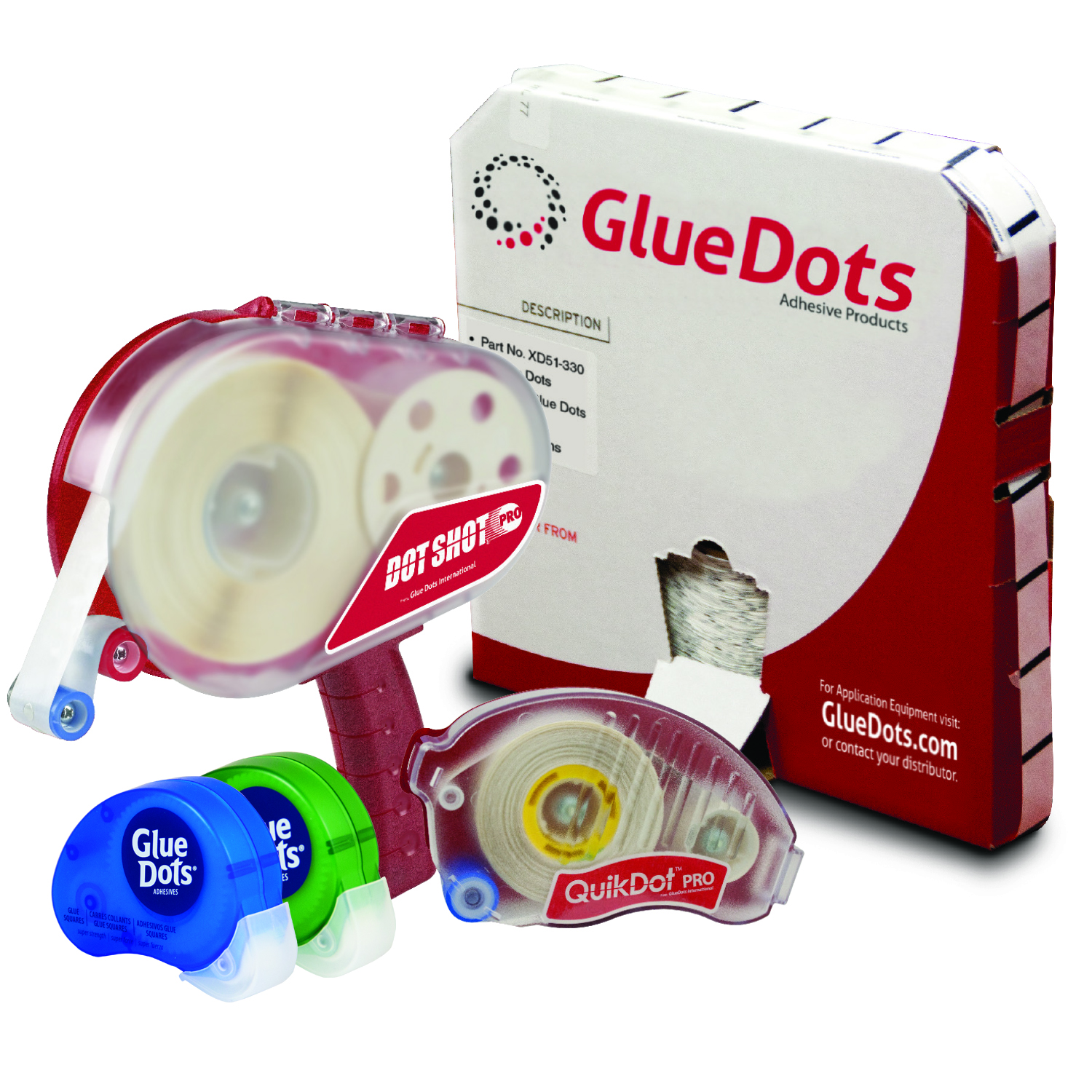 Invisible Solution. Visible Results.TM
Shop for Glue Dots with the lowest prices online or contact Star Packaging Supplies for expert help with Glue Dots adhesives and applicators.
What are Glue Dots?
Glue Dots are pressure-sensitive adhesive dots with several advantages:
Bonds instantly
Faster & safer than hot glues
Cleaner than liquid adhesives and tapes
No mess. No residue. No odor.
Available as standard product or customized to meet your needs
Glue Dots create a clean, instant bond and work with virtually any application, in any industry.
Use Glue Dots to:
Secure product in place before shrink wrap
Fix a hot melt failure invisibly
Glue info sheets or outserts to packaging
Hold products in place in a gift basket
Secure gift cards, business cards, brochures or promotional items

Glue Dot Specifications
TACK LEVELS
PROFILES

Standard Glue Dots tack (strength) levels:

Super High Tack creates a permanent bond, which will tear paper

Low and Medium Tack Glue Dots are considered removable from most substrates.

High Shear Glue Dots have vertical hold capabilities.

Glue Dot Profiles

Glue Dots are available in three profiles (thicknesses).

Low Profile Glue Dots are thin and used for bonding level items.

Medium and High Profiles are used to create a bridge or gap between substrates.
Not sure which Glue dots tack or profile you need? Contact Star Packaging Supplies for expert help!
Glue Dot FAQ
Are Glue Dots removable?
Low and medium-tack Glue Dots are considered removable from most substrates.
Are Glue Dots toxic?
Glue Dots Brand Products are made from a variety of synthetic, rubber-based adhesives and are non-toxic.
Are Glue Dots acid free?
Yes. Glue Dots are acid free.
Will Glue Dots melt?
The melting point of Glue Dots depends on the amount of stress in the bond. If necessary, we can work with you to develop a custom adhesive solution.
Do Glue Dots have a shelf life?
Glue Dots adhesives do not degrade over time, however they do need to be stored in a clean, dry environment in their original packaging. Don't expose Glue Dots to extreme temperatures, high humidity, sunlight or other UV light sources which can compromise their effectiveness.
Can Glue Dots be used in an assembly line?
Yes! Incorporating Glue Dots applicators into your assembly process is cost-effective and straightforward. If you need help choosing a Glue Dot applicator for your assembly line, just contact Star Packaging for expert help.
Star Packaging Supplies is located in Milwaukee Wisconsin. Call us at 414.771.5717 or 800.634.0901 today for more information on the perfect Glue Dot solution for your industrial packaging application.
Buy Glue Dots Dispenser Box or DotShot Pro or Econodot or AutoDot Pro or SD-900 Pro online and get the best prices only at Star Packaging Supplies. Click on a product image for bulk price breaks.