Schaefer RT Hot Melt Roll Coating Machine
HOT MELT ROLL COATING MACHINE (RT SERIES)
The RT hot melt roll coating machine is an adhesive application machine used to apply hot melt adhesive to sheets of material up to 38 inches wide. This hot melt roll coater has a large adhesive reservoir and a powered feed roll system for coating thin parts and wide sheets. The feed roll can be released and pivoted out of the way to make the RT and open roll coating machine for hand-held parts.
QUALITY DESIGN:
• 3 Widths – 13", 26", 40"
• Digital electronic temperature control ensures accuracy
• Compact design allows use by two operators
• High capacity melt tank (10 lbs. of adhesive in a
13" machine up to 30 lbs. in a 40" machine).
• Simple coating thickness adjustment
• Machine heat up time: 60 minutes
• Variable speed drive to 60 fpm.
• Powered feed roll: for thin parts and wide sheets.

The feed roll system on the RT coating machine is adjustable to allow coating of parts as thin as .020, and as thick as 6". The machine is equipped with variable speed drive, and also has a simple single point adjustment for coating thickness. Adhesive temperature is controlled by an electronic temperature control and solid-state circuitry. The controls include a startup timer to prevent machine operation until the hot melt adhesive and coating roll are up to temperature. Hot melt adhesive can be added by simply raising the feedtable and loading fresh adhesive to the melt chamber. There is no need to stop machine operation while waiting for adhesive to melt. Inside the tank, there is a secondary roll to pick up hot melt adhesive and transfer it to the coating roll as the adhesive level drops. This feature gives the machine more capacity for hot melt adhesive and keeps the adhesive in the tank flowing up to the coating roll even when the adhesive level in the tank gets low.
The RT can operate with almost any type of hot melt adhesive having an application temperature below 400 F. It is mounted in a roll around base, so it can easily be relocated to a new work area. The compact design allows use by two operators – one on either side of the machine.
VERSATILE:
• Feed roll position is adjustable in both vertical and horizontal directions. This allows coating
• of parts up to 6" thick, as well as coating of thin sheets.
• Feed roll can swing out of the way, making the Schaefer RT into an open roller machine. This
• configuration is ideal for coating large blocks or hand held parts.
• Tank equipped with inlet port to allow feed from a premelt system (for high volume usage).
PIVOTED COATING MODULE:
Entire coating unit and doctor blade are mounted to a frame that can pivot upwards for full access to the melt chamber and agitator roll. This allows debris that may accumulate to be easily cleaned out, and also makes it simple to clean out any parts that may get carried into the tank area.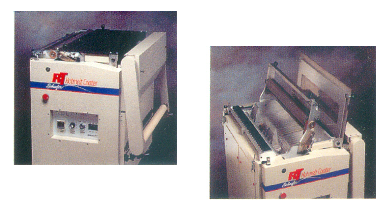 COATING MACHINE SPECIFICATIONS:
OPTIONS
• Powered feed roll (shown in photo above)
• Special voltages
• Smooth or heavy coating roll
• Striped coating roll