Shop our SemiAutomatic Strapping Machines selection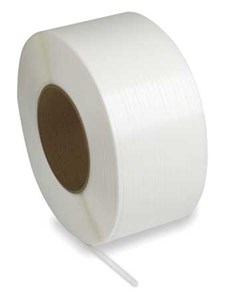 M4835-8W Machine Grade Plastic Strapping 1/2" x 9,900; x .024 (8: x 8" core)
Part Number: M4835-8W
SKU: M4835-8W
$94.79
Semi Automatic Strapping Machines
Eagle SP11
$1,075.00
The Eagle SP11 offers eco-friendly operation through use of two direct-drive 24VDC motors. This eliminates the need for a complex belt and pulley system and provides for nearly silent operation.
Strap tension is controlled electrically, which eliminates the need for a manual spring-based hand crank system.
Just like the Eagle 100, the Eagle SP11 is height adjustable. It includes a stainless steel table top and has a safety switch that cuts power while the lid is open to protect the operator.
Dual direct-drive 24 volt motors
"Silent" operation
Quad locking casters
Adjustable leg height
Electronic tension control
Stainless steel table top
Safety Switch
Eco-friendly
PC650RPS Portable Pallet Strapper
Features
Easy to understand control panel with centralized start button. Insert the strap into the machine and the machine does the rest
Bayonet automatically extends through pallet void and dispenses the desired amount of the strap
Bayonet automatically retracts when strapping cycle is complete
Easy to load coil location with waist level strap threading
Retractable bayonet reduces floor space, improves maneuverability and reduces the chance of damage
Extra large 6" rubber casters provide the ultimate in maneuverability
Specifications
Min. Load Height: 24"
Strapping Speed: 2.5 second/strap (60Hz)
Tension: 30-90 lbs.
Sealing Method: Heating element
Strap Sizes: 3/8",1/2", 5/8" polypropylene or polyester; Metric: 9, 12, 15.5mm polypropylene or polyester
Strap Thickness: Up to .030"
Core Sizes: 16"x6" standard; 8"x8" or 9"x8" optional
Voltage: 110 VAC 60 Hz
Weight: 650 lbs.
A minimum 3-1/2" pallet void is required with a max 3/4" base pallet board
Strap Bayonet Max. Ext. 39"