Shop our Instapak Quick RT selection
Instapak Quick RT
INSTAPAK QUICK® RT PACKAGING
Instapak Quick® RT Foam Packaging: All the cost-saving benefits and proven performance of Instapak® foam packaging without the need for equipment. Quick RT provides general duty cushioning and light blocking and bracing for products of all different sizes and weights. It is designed to work across a wide range of applications. For heavier products, Quick Tuff® RT offers the maximum protection and expands the versatility while enhancing the performance of the Quick packaging process.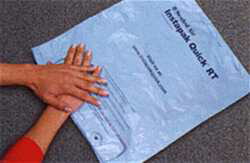 Instapak Quick RT
Room Temperature foam-in-bag packaging - Protect anything and everything, anywhere!
No equipment required! Completely portable!
Works the same as Instapak Quick without the need of a warming unit!
Fast. Expands in seconds.
Chemicals are activated in the bag.
No clean up required.